As I write this, I am sitting eating a tasty bowl of the featured article. . .
If you love butternut squash, this soup just may be the answer to your prayers. In my dad's words, "This is
heaven
." So creamy and rich with a spicy bite at the end. Plus, the recipe is incredibly simple. I found it
here
on allrecipes.com.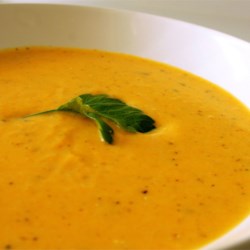 Ingredients:
6 tablespoons chopped onion
4 tablespoons margarine
6 cups peeled and cubed butternut squash
3 cups water
4 cubes chicken bouillon
1/2 teaspoon dried marjoram
1/4 teaspoon ground black pepper
1/8 teaspoon ground cayenne pepper
2 (8 ounce) packages cream cheese
Directions:
In a large saucepan, saute onions in margarine until tender. Add squash, water, bouillon, marjoram, black pepper and cayenne pepper. Bring to boil; cook 20 minutes, or until squash is tender.
Puree squash and cream cheese in a blender or food processor in batches until smooth. Return to saucepan, and heat through. Do not allow to boil.
My Advice:
After making this a few times, I have a few tidbits. . .
Roasting the squash in the oven brings out the flavor more. Cut in half and lay face down in a baking pan. 30-40 minutes on 350 degrees.
If you wanna make it quick, just nuke the squash in the microwave! Cut the squash in half, and lay face down on a plate. Microwave 8-10 minutes.
Half of the cream cheese is more than plenty for this recipe. In fact, it is quite good without it. So basically, just go with your feelings on this one. But I would take it easy with the cheeezzzyyy. yeah.
I added a lot more of the cayenne pepper to give it spice. I normally hate cayenne, but it packs a nice punch with this recipe.
Also, you can really use whatever kind of squash you want to. I tried using yellow squash (which is significantly smaller, so I bought more and halfed the recipe). My mom also informed me that she tried it with spaghetti squash, and said it turned out well.
It's a dream in a bread bowl.
So go get in your kitchen and try it!
I swear by all the squash in America,
you won't regret it.